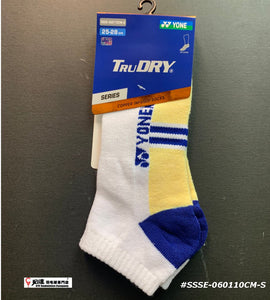 #SSSE-060110CM-S
Size: 25-28 cm
Materials: 

97% Polyester 2% Spandex 1% Coper Treated Yarn
Technology: 

TRUDRY
Inbuilt antibacterial and deodoriser maintains freshness, prevents odour and bacterial build up.
COPPER INFUSED YARN
Cooper socks, beyond functioning as normal socks boost circulation and accele rate vital proteins production for healthier skin. The copper's anti-microbial properties prevent fungal bacteria for odour-free, athletic feet.
BREATHABLE
Stay sweat free in light, airy fabrics.
COOLING
Keep cool with our moisture management properties.
ANTI-BACTERIAL
Destroying and inhibiting the growth of bacteria.
ANTI-ODOUR
Stop the growth of odour-causing bacteria on fabrics.